AppSumo, for the uninitiated, is a tech-oriented deals site that specializes in offering its audience steep discounts - sometimes for life - on all sorts of SaaS (and other) products.
We here at Formcake just launched our own AppSumo deal and have enjoyed the process so far - but definitely have some tips for other prospects.
Starting with the expectations game.
Early Hopes
We found AppSumo as we were researching ideas for expanding our marketing reach. Once we looked more into it, we were also deeply intrigued by their emphasis on lifetime deals.
It sounds so counterintuitive! Limited benefit for the possibility of unlimited use. But it also felt savvy in way only certain companies (like us) could manage: We've built as smartly as possible to have a low cost-per-customer, we have an already-existing trial base we can market to, and we're the new, hungry kids on the mechanical Turkish block, willing to stretch ourselves for increased recognition.
And there are some sneaky benefits to the lifetime account strategy - it allows us to recoup LTV up-front that could otherwise have churned out before the $50 mark. It also puts paid advertising at least in the realm of possibility - a $50 sign-up is worth a higher CPC. And a lifetime customer is a lifetime champion - someone who has a vested interest in seeing the application grow in value.
So we were excited by the lifetime deal strategy and incredibly excited by the prospect of unleashing the AppSumo machine - especially their vaunted million-plus strong mailing list.
Reaching Out
We reached out tentatively, not knowing what to expect, a lot of the existing AppSumo literature on various blogs was either outdated or unhelpful.
We received an almost instant (< five minutes) response. AppSumo runs a well-oiled machine!
The requirements for working with them were simple:
1) We would build a system where a code could be redeemed for an account with an AppSumo plan. We would give AppSumo 10,000 of these codes.
2) They would take a (small, certain) percentage of the proceeds of their sale of each code, giving the majority to us.
3) We needed to plan to be ready to man our support battle stations and make sure we could resolve any questions or bugs quickly and effectively. Once we went live with AppSumo, we could expect a torrent of responses.
The plan would have to be something offered exclusively through AppSumo. We knew we wanted to commit to a lifetime deal, and that it should be a beefed-up version of our Developer Plan - but at a lower price than the annual version. We settled on the general stats of our Developer plan but with twice the monthly submission limit.
We were needless to say excited. We developed all the relevant infrastructure over a three-day weekend. AppSumo in their initial email said they could be ready to launch us as quickly as one to two days after we met all the requirements.
We ended up launching the next day.
Launch and Post-Launch
We launched, hoping for a torrent of traffic and signups.
We received a modest bump, less than ten new signups over the course of the first few days. But then we had a realization.
We'd been listed in the marketplace and surfaced in whatever searches were relevant on the AppSumo site, but to get to the next level - to unlock some real co-marketing - we needed to receive at least ten reviews with and average of four or more stars on our marketplace listing from Sumo-lings who had purchased our product.
This, of course, makes a ton of sense.
We needed to show AppSumo that we could both bring in some traffic based on the quality of our product, as well as please a customer based compromised of Sumo-lings, before they'd put their stamp of approval on it.
As you can see, we're still working our way towards those ten reviews!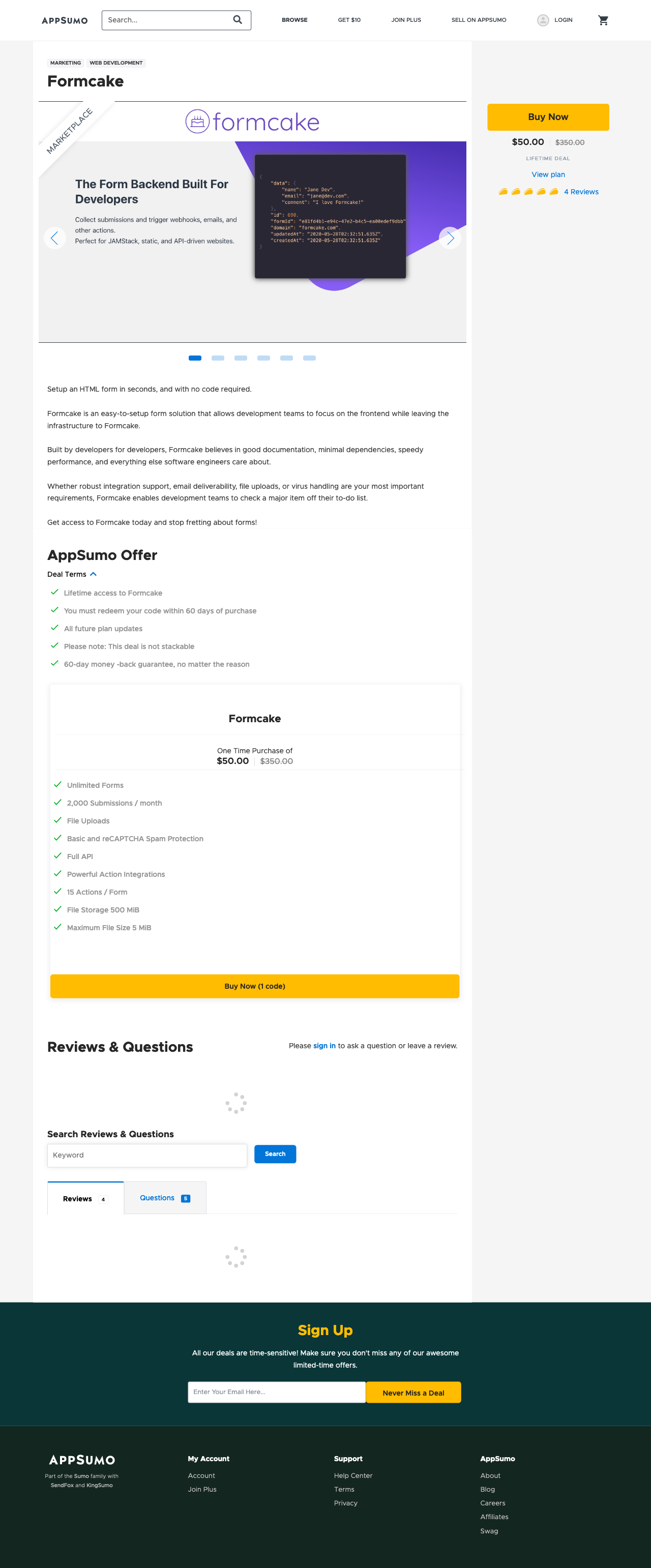 Only four - but a strong four!
We also learned that after receiving 25 reviews, we could expect to unlock a new level of co-marketing and be featured in their storied million-subscriber newsletter.
Lessons Learned
We had put so much time into finding and then preparing for our AppSumo launch, we didn't think enough about what we were bringing to the table. We saw the AppSumo launch as an end in itself, and not what should be the beginning of an entire series of marketing campaigns orchestrated on our end to drive traffic.
We also might have waited or otherwise worked to go into the campaign having a large free-tier account user base - having a larger base of free customers happy with the product who might jump at the opportunity of a lifetime deal could help us hit this early ten-review metric a lot quicker and easier.
Of course we're slowly learning (check out our beautiful banner done in AS colors by our talented developer-leader!) but still very much playing catch-up.
So take our advice - if you're going to work with AppSumo, you best be ready to pony up the traffic, show them you've reached a critical mass in your market so they can be confident you'll succeed in theirs.
Current Status
Since this is all a live experiment, it bears mentioning that even at this still-early stage (we launched about a month ago), and given that we haven't driven a lot of traffic to the site, we've still managed to pull in just under $1,000 (though it'll probably beat that shortly after this is published). The magic of the lifetime account and pricing is that even a small number of signups (< 50) can really add up.
We're excited to see where it can go with a little more traffic.
We'll publish a Part II after we get to 10 reviews! If you'd like to be notified when we publish it, sign up in the box below (or just do it old-school and check out our RSS feed)
Stay tuned.